The $10 Million Stronger Together Campaign

Campus Expansion

The need for services has continually grown since the inception of NorthPoint. Hennepin County approved funding for a $67 million capital investment to expand NorthPoint to meet the community's needs.
This expansion provides NorthPoint with additional space to increase the number of providers and exam rooms. The design supports NorthPoint's model of integrated care and increases our ability to serve the community. However, the County's investment is not covering all critical areas. The goal of our $10 million Stronger Together Campaign is to close the gap while including community and cultural philanthropy as part of an integral and unique public-private / community partnership.
This capital expansion will not only increase the economic impact that NorthPoint has already brought to the North Minneapolis community, but will allow us to further leverage the capital investment of Hennepin County. We will be able to increase the economic and health equity impact in our community at a time when racial inequities and injustice, along with a global pandemic, are pressing down especially hard on communities of color.
The Stronger Together Campaign
NorthPoint's $10 million Stronger Together Campaign will close a funding gap focused on six critical areas of the new NorthPoint Health & Wellness Center Campus:
Dental Specialty Services: We will have equipment and modifications to serve children and adults who have limited mobility.
Food Shelf Distribution Operations: We will expand our ability to store and distribute more food to community members and reach more people who have difficulty accessing the Food Shelf location. A new layout and equipment will increase the efficiency of the Food Shelf.
Bistro Café & Teaching Kitchen: We will provide job training and employment opportunities for youth and young adults and space for community nutrition education.
Drop-in Child Care: We will provide young children with a safe and developmentally appropriate environment and activities while their parents or caregivers attend appointments.
Health Equity Programming: We will develop and promote methods and models of care that have proven to produce outcomes that promote health equity and strong communities.
Spiritual, Healing & Wellness Center: The Center will provide a meditative spiritual space open to individuals when they visit the Campus. Sometimes people need a calming space after a difficult appointment.
About the Gift
Over the last 50+ years, so many have joined to build NorthPoint's strong foundation of providing our community with whole-person integrated care, building community well-being, and supporting our commitment to health equity.
Today, we invite individuals, communities, corporations, foundations, and others to join us as we enter a new and exciting journey of continued growth to meet our community's needs.
Your support of our $10 million Stronger Together Campaign will help NorthPoint Health & Wellness Center positively impact more lives and create a community culture of philanthropy.
Thank you.
For more information and to schedule a presentation contact:
Kimberly Spates
kspates@npimn.org
612-767-9190
Learn more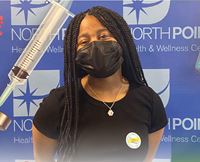 NorthPoint Nurse Bridges Her Hmong Roots and Culture with the Vaccine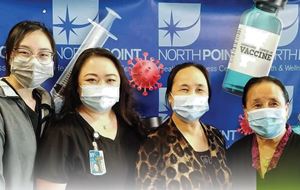 Protecting the Health of Our Community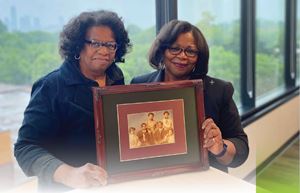 NorthPoint campus expansion summary